For peat's sake: Beginning a peat free future
The way we garden is changing. We are becoming more mindful of the resources and materials that we use in the garden and the impact that they have on our environment. At Morton Hall, we have always sought to reduce our impact on the environment by recycling organic matter and using as few chemicals as possible. Over the last year, we have introduced significant changes in the treatment of our roses, moving away from systemic pesticides to more natural products.
This year, we are making another big change in moving away from peat-free compost and trialling coir pots with the hope to be able to replace plastic pots for propagation.
Peat is partially decomposed plant material that accumulates in waterlogged conditions slowly over thousands of years. Peatland habitats support a wide variety of different plant and animal species as well as soaking up rainwater thereby reducing the risk of flooding. Peat bogs also store vast amounts of carbon which is released as carbon dioxide when peat extraction takes place. Worldwide, peat bogs store over 600 billion tonnes of carbon dioxide, which is more than all the world's forests combined.
However, peat is also an excellent growing media for growing plants as it has a good capacity to hold air, water, and available plant nutrients in high quantities. It is also a very clean growing medium that is free from weeds and harmful pathogens. Nevertheless, its days being used in horticulture may be numbered as the government is currently holding a consultation on ending the retail sale of peat by 2024 to protect this very important ecological resource.
There are an increasing number of peat-alternatives on the market. Having considered various options, we chose Dalefoot wool composts. They are produced in the Lake District using a blend of sheep's wool and bracken. Bracken is rich in potash to support flowering and fruiting and other trace elements, whilst wool helps with improved water retention and has high levels of nitrogen for improved plant growth. In addition, the cutting of bracken on hillsides helps to control this aggressive plant from outcompeting other native vegetation.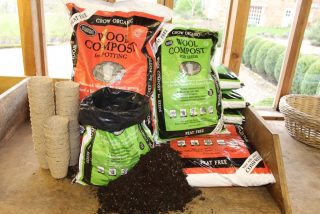 The obvious advantages of Dalefoot composts are that they are made in the UK, thus avoiding long-haul transport and that they are produced from renewable materials.
We are excited to start using our new composts as we begin sowing are vegetables for the kitchen garden and growing over 600 summer flowering annuals for our borders.