Zinnias in the Kitchen Garden
At the height of the summer, the ripening produce in our Kitchen Garden is surrounded by bright yellows, oranges, pinks and reds which makes this part of the garden very joyful and enticing.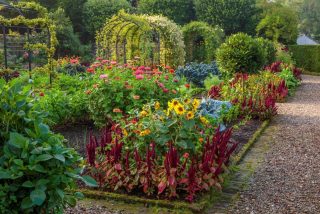 This exciting display is created by sunflowers (Helianthus 'Dwarf Yellow Spray', amaranthus (Amaranthus hypochondriacus 'Pygmy Torch' and two varieties of zinnias: Zinnia elegans 'Cupid Mix' is a short variety with a colour range from white to pink, orange and red. Zinnia elegans 'State Fair' is a variety we discovered only a couple of years ago, with a similar colour range but huge flowers on 3 to 4 foot tall stems!
The tall zinnias are reserved for the centre of the beds, encircling a variegated canna (Canna 'Tropicana Gold'), the shorter ones for the corners, along with the amaranthus and sunflowers.
Zinnias and amaranthus are seeded directly in the spring. The sunflowers are grown in the greenhouses in coir pots.
Seeding and planting happens in the second half of May when there is no more risk of frosts. For a perfect arrangement, the central zinnia area is marked out and the canna planted in the middle. The zinnias are then seeded, sprinkled with a layer of compost and watered. In the corners, the sunflowers are planted before the seeds of the smaller zinnia variety are scattered. The amaranthus has been seeded in April and then thinned out into an informal 'hedge' surrounding the annuals.