Hepaticas: Sparkles in the Spring Crown
The delicate yet vivid colours of Hepatica flowers stand out on the bank in the Stroll Garden. After a dull winter, these small flowered, clump forming, herbaceous perennials light up the garden in March and April in rich shades of pink, purple, blue and white.

A member of the buttercup family (Ranunculaceae), Hepaticas can be found in northern, temperate regions of the world and there are nine accepted species. Hepatica nobilis is the most widely distributed European species found in central and northern Europe where it grows in deciduous woodlands of oak and beech on limestone based, alkaline soils. The deciduous canopy cover allows Hepaticas to receive plenty of early spring sunshine when flowering but ample shade during the heat of the summer to maintain soil moisture. Hepaticas are sometimes called Liverwort because of their three-lobed dark green leaves, and it was because of this that the plant was used to treat liver complaints as well as kidney and bladder problems.
Hepatica x media is a naturally occurring hybrid between H. nobilis and H. transsilvanica found in Romania. The cultivar 'Harvington Beauty' was discovered in the Harvington Gardens. It is a vigorous plant producing an abundance of mid blue flowers in spring.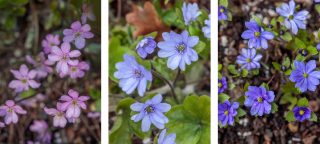 Although many Hepaticas can have interesting marbling on their semi-evergreen leaves, we choose to cut the leaves off in February as they have become tatty in the winter and to showcase the emerging flowers in the spring. At the same time, we also give the plants a little feed with a balanced pelleted fertiliser.
Hepaticas grow well in moist, humus-rich soil in a shady or partially shady area. They benefit from a regular mulch with leaf mould, and we mulch them with our home-made compost on a regular basis in the early winter.
As they reach the peak of their flowering in the spring, we give each Hepatica plant a small handful of granulated garden lime as they are often found on calcium-rich soils in their natural habitats. Throughout the summer, we monitor them to make sure that they do not dry out.