Winter Salad
Throughout the summer we grow and harvest a selection of different salad crops in the Kitchen Garden and greenhouses. This ranges from rocket, radishes, and oriental salad leaves in the greenhouses alongside tomatoes and cucumbers to a selection of colourful little gem and looseleaf lettuces outside in the Kitchen Garden. But come the autumn, these crops are starting to fade so the challenge is to extend the season with salad leaves through the colder winter months.
So last autumn, after the summer crops had been cleared from the greenhouse and the compost replaced, we sowed a selection of winter salad leaves for harvesting this new year.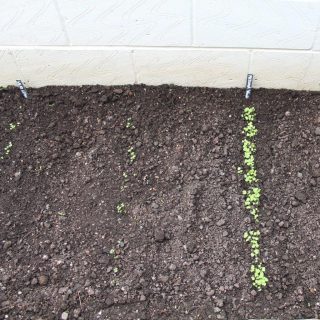 Mizuna (Brassica rapa var. nipposinica) was the first of the salads we sowed. This Japanese brassica has a mild mustard flavour and we have grown a newer variety called 'Waido' with strongly flavoursome, broad green leaves and white stems. The second salad leaf we chose was Corn Salad or Lamb's Lettuce (Valerianella locusta). Although Corn Salad can be sown throughout the year, the variety we are growing is called 'Vit' and is particularly well-suited to the cold winter months as it is not easily damaged by frosts. It produces rosettes of soft, spoon-shaped, dark-green leaves with a distinctive, tangy flavour. Finally, we also sowed an oriental salad leaf mix.
All the salad leaves were sown directly into shallow drills 30cm apart in beds in our unheated, cooler greenhouse in October. The greenhouse can get down to freezing during cold winter nights. Once germinated we thinned out the seedlings to 5cm apart. The plants were slow to germinate and grow to size in the late autumn but have reached a harvestable size in the new year. Watering was kept to a minimum through the winter months to avoid damping off and the doors and vents of the greenhouse opened during the day to improve airflow. The outer will be taken first, avoiding damage to the growing tip to allow them to continue to grow and be harvested later. We have protected the salads from damage by slugs and snails with crushed, dried seaweed.
It is the first time we have grown winter salad leaves and utilised the growing space in the greenhouse during the winter. We had to be patient, but it has been a rewarding crop to grow this winter.