Winter Pruning of Wisteria
One of the May highlights in the South Garden is when the large oak arbour is smothered in fragrant snow-white wisteria blooms. We grow two varieties: Wisteria brachybotrys 'Shiro-kapitan' and Wisteria sinensis 'Alba'.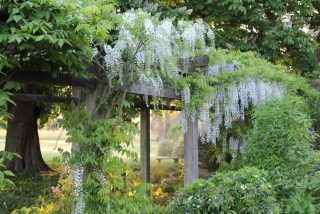 To achieve this sumptuous display, it is necessary to diligently prune the wisteria plants. This happens twice a year, in July-August and January-February. If left unpruned, wisterias will ramble and grow to immense size, but will not flower as profusely. Summer pruning improves the air circulation through the plant which is beneficial to plant health. It also allows more sunlight to reach the base of the shoots which encourages wood ripening and flower bud formation. The current year's growth is pruned back to five or six leaves.
Winter pruning is carried out when the plant is leafless and dormant. It is more severe, reducing last year's growth to two or three buds. This shapes the plant and ensures that the flowers will not be obscured by foliage.