Rose Time
This is the month when roses are taking over our gardens, filling them with colour and scent. At Morton Hall, we grow more than 80 different varieties in a mixture of ramblers, climbing roses, shrub roses, Old-fashioned roses and, last but not least, English Roses. Each type of rose has its specific place: Ramblers cover arbours and large evergreens, climbers adorn walls, shrub roses grace the more informal parts of the garden and, finally, Old-fashioned and English Roses are essential components of the formal gardens. While we love all our roses, there are some worth singling out because of their unique qualities.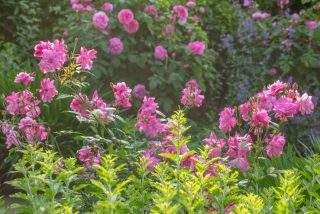 One of the earliest to come into flower, this rose has a relaxed habit, with gracefully arching stems and semi-double flowers in a silvery pink which darkens as they age. There is a gentle tea fragrance. 'Old Blush' is a repeat-flowering China rose and has been in cultivation for over a thousand years. It was the first Asian rose to be introduced in Europe in the mid-18th century. We like it because of its playful habit and lovely soft colour. Because of their looseness, the flowers are not ideal as cut flowers.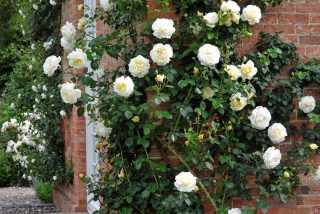 A modern climbing rose introduced in 1998, 'Crème de la Crème' produces large flowers with over 60 densely packed petals. The colour is soft cream, with a darker centre, which contrasts beautifully with the dark foliage. The fragrance is sweet. Growing to about 2.5m, this is a manageable plant of excellent health which certainly has a wow factor. It also makes a great cut flower and repeats very reliably.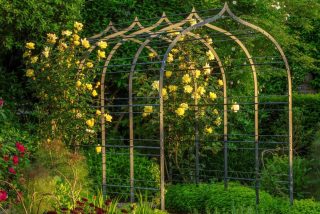 The complete opposite to gentle 'Crème de la Crème', 'Golden Showers' is a tall climber (up to 4.5m) with semi-double flowers in a strong yellow, fading to cream as they age. This a rose of contrasts: Bright blooms, dark stems and very glossy dark green foliage. It certainly suited the fashion of the 1950s when it was introduced. However, it makes a great eye catcher on our Kitchen Garden arbour and stands out against the dark foliage of the back border. Like 'Old Blush', the blooms are too loose to last in a vase. After the first flush, the rose repeats with less impact.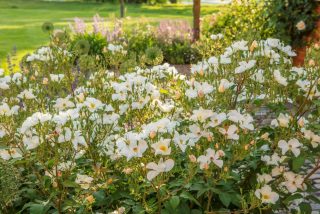 Introduced by David Austen in 2009, 'Kew Gardens' is a thornless Hybrid Musk shrub rose of great vigour which is smothered in single white flowers throughout the summer and, depending on the aspect, way into the autumn. There is only a very light fragrance. 'Kew Gardens' is best suited for an informal border or even as a hedge. We grow it in the Lozenge beds of our Mediterranean-style West Garden, with nepetas, rosemaries, thymes, verbenas and agapanthus. Given its size (1.8 x 1.2m) it needs space. Like all Hybrid Musk roses, it is very impressive because of the flower density, but a real challenge for deadheading…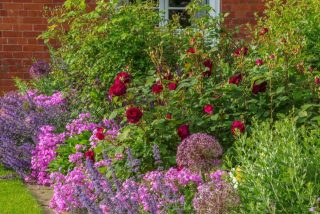 A true gem for any rose garden, 'Munstead Wood' is an English shrub rose named after Gertrude Jekyll's home in Surrey. It was introduced by David Austin in 2007. Over 70 petals of a deep crimson are tightly packed in each flower which carry a fruity scent. 'Munstead Wood' deservedly has been awarded an AGM as it combines all desirable qualities of a rose: Colour, shape, scent, reliability and – hard to find in dark red roses – health. We grow it in the South Garden, along with white clematis, which makes a stunning combination. It is also a great cutting flower.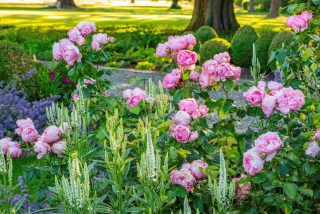 A very impressive tea hybrid shrub rose of French origin (introduced around 1990), which, after hard pruning, reaches a size of about 1m each year. The delicately pink flowers are densely packed with almost 100 petals. However, we find that the blooms are not suitable for the vase as they tend to fall apart quickly. There is only a moderate fragrance which is made up for by the enormous size of the flowers (10 – 12cm). Because of the weight of the flower heads, the plant might need a support.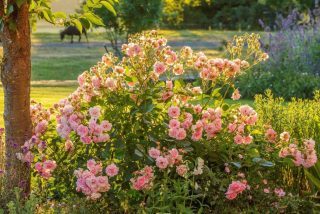 One of the best-known Hybrid Musk roses is 'Felicia', which was bred in 1928 and awarded an AGM in 1993. It combines vigour, colour, fragrance, health and a very long flowering season. Like 'Kew Gardens', 'Felicia' needs space and is, in our opinion best suited for informal borders. In a formal rose garden, the density of the flowers may be overwhelming. We therefore replaced the Hybrid Musk roses in the South Garden with English Roses. In the West Garden, however, they are true showstoppers!