Amaranthus "Hedges" in the Kitchen Garden
When taking our visitors around the garden, we explain how important it is for us to achieve a flamboyant ornamental display in hot colours in the Kitchen Garden in mid and late summer when the garden is at its best. An essential element of these "fireworks" are mini-hedges of Amaranthus hypochondriacus 'Pygmy Torch' filled with annuals in the eight corners of the central vegetable beds. Over the past years, we have improved this planting by seeding the Amaranthus directly into the ground in late April. This gives a much better result than trying to grow the Amaranthus inside. In mid-May, we plant glasshouse-grown Helianthus annuus 'Dwarf Yellow Spray' in the centre of the Amaranthus which will have just started to emerge. At the end of May, we seed Zinnia elegans 'Sprite Mix' directly in between.
The sunflowers will be in bloom from mid-June onwards. In July, the Amaranthus will have produced impressive foliage and just start to flower.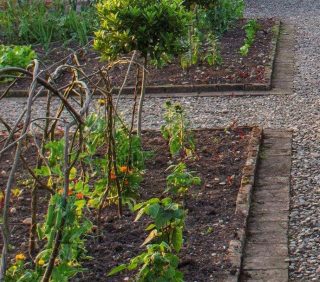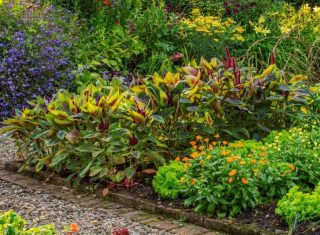 The emerging mini-hedges will provide perfect shelter for the Zinnias which take over from the sunflowers from the end of July onwards and carry the display to the end of September. Together with the 'black' dahlias in the back and the central mounds of Tithonia rotundifolia 'Goldfinger', the corner hedges provide a strong anchor for the changing crops of vegetables.