Creating a Garden under an ancient Horse Chestnut
Morton Hall's East Terrace is dominated by a huge white horse chestnut (Aesculus hippocastanum) which is more than 200 years old and was probably planted when the original manor house was built around 1770.

Over the centuries, the tree which, due to its isolated position and the access to plenty of ground water, is extremely healthy, developed into a beautiful giant.

As it is the habit of horse chestnuts, its canopy grew not only upwards and outwards, but also downwards towards the ground, resulting in a solid mass of green with very little light penetration when the tree was in leaf.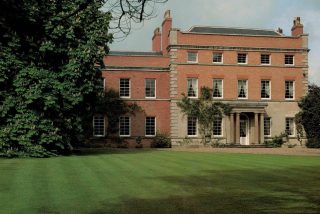 As much as we love our chestnut, we felt that the lack of light was rather oppressive and therefore decided to lighten the tree and create a 'garden' with autumn and spring interest.
As a first step, the canopy was lifted by about 5 metres which revealed a mature colony of Cyclamen hederifolium nestled in strands of ivy.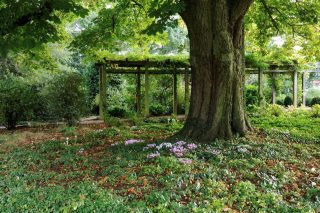 Inspired by this lovely display, we planted large numbers of cyclamen hederifolium and coum, snowdrops, winter aconites and anemone blanda for autumn and spring interest.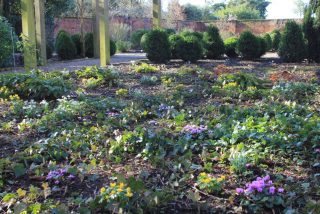 We also realised that the space under the chestnut was huge and that it would take many hours to remove encroaching weeds and grass. This is how our lovely tree acquired the nickname 'Tree of Doom' (see also July 2017 column).
We have been very vigilant in preventing the ivy from suffocating the delicate cyclamen. However, we were completely taken by surprise by a sudden and massive invasion of violets which rapidly formed a dense carpet covering the whole area under the tree, strangling our precious plants. We had no choice but to remove as much of the violets as possible and plant a combination of cyclamen, ferns and epimediums in large numbers to cover as much of the soil as possible.
To do this, we needed help. Having recently employed a WRAGS (Work and Retrain As a Gardener Scheme) trainee, we discovered the possibility to invite trainees to participate in a project day. We were delighted that six trainees plus Liz Harrison-Halls, the Regional Manager for the scheme, signed up for the project.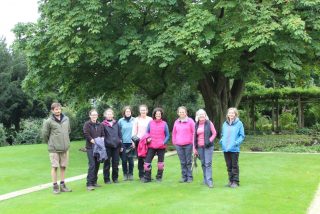 Over the course of the morning, the team diligently and carefully removed as many violets as possible, thereby revealing many existing cyclamen which had not been able to flourish under the violet carpet.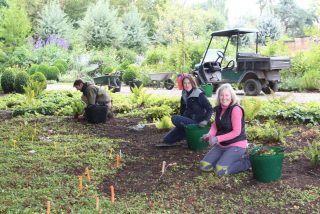 At lunchtime, the space had been cleared and the team had a more than well deserved break.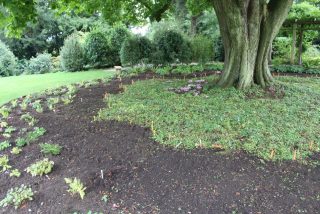 After lunch, ferns, epimediums and Cyclamen coum and hederifolium were planted in the reclaimed territory.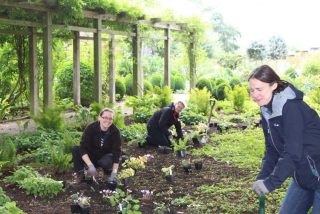 At the end of the day, our 'garden' was ready. A true achievement! All that remains is to add winter aconites and snowdrops and keep those violets at bay… Thank you very much, brave WRAGS ladies!