Pots of colour
The highlight in May is the Tulip Festival at Morton Hall. Whilst the most elaborate and intricate displays are in our borders, pots also provide interest and colour in the Kitchen Garden and West Garden.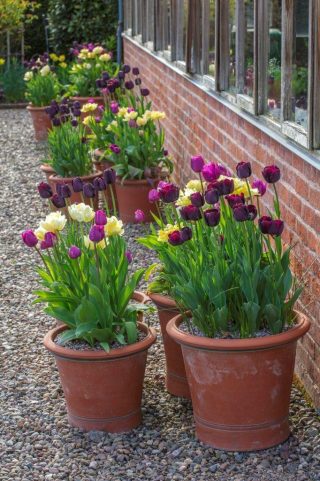 The first factor to consider when planting tulips in pots is the type and size of pot that the tulips will be grown in. In the Kitchen Garden we use a mixture of different sized classic terracotta pots that are arranged in groups with smaller pots in front of larger pots. In the West Garden, tulips are planted in a stone trough and modern, tall, flared pots.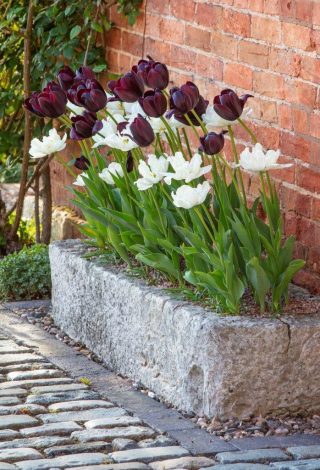 Tulips come in a kaleidoscope of different colours, but flower shape also plays an important role in distinguishing different tulip varieties. There are 6 main flower shapes: single-flowered, double-flowered, lily-flowered, fringed, parrot and viridiflora tulips. There are also a few varieties with multiple flowers per stem, most of them in the 'Club' series. Each flower shape has a distinct set of characteristics and adds a unique and individual quality to the pot display.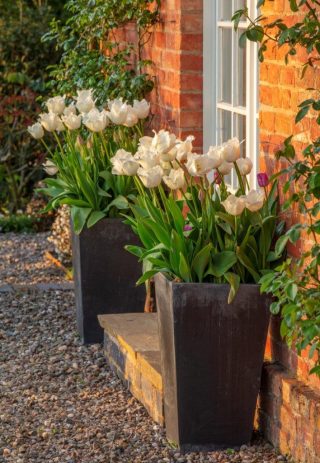 The overall height that the tulip flowers at is another factor to consider when selecting tulip varieties for pots. Taller varieties such as 'Rhapsody of Smiles' are best planted in a larger pot which provide greater stability for the flowers. In the Kitchen Garden, those are placed behind pots with smaller varieties.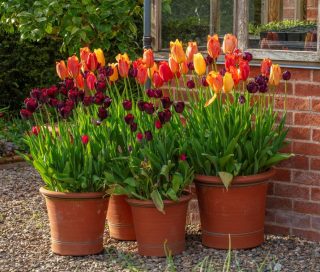 When planting out tulips in pots we usually plant two varieties in each pot that complement one another and therefore flower colour is very important. In the Kitchen Garden we use vibrant oranges and reds with darker purples and pinks which complement each other well and link with the sunset and sunrise borders either side of the Kitchen Garden. Due to the south-facing aspect of the Kitchen Garden, the tulips grown in pots usually flower a little earlier than the tulips grown in the beds making a colourful introduction for what is to come. There is also the option to plant mid-season varieties in north-facing and late-flowering varieties in south-facing locations to synchronise the display.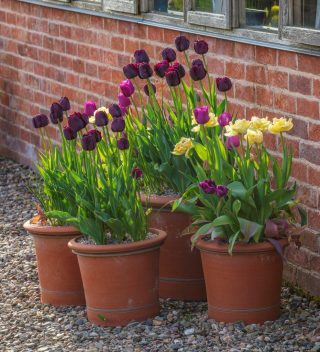 Growing in pots is a very versatile way of growing tulips as each pot can be moved and grouped together accordingly, meaning that there is always a colourful display in the month of May.
As tulips come up in the pots, it is important to water them!