Planting Pots for Spring
Planting bulbs in the autumn is always very exciting as it carries the hope of spring just when the wet and grey English winter is about to descend upon us.
Planting bulbs in pots feels a bit like flower arranging in the dark – not that we have ever tried such a thing. We imagine what it is going to be like to mix this tulip with that daffodil and hope that heights, shapes and colour will work the way we envisaged.

The pots are filled with compost, leaving some room for bulbs and a compost topping. As the bulbs are only used once, we don't need to be too fastidious about planting depth. However, if bulbs of different sizes are used, such as tulips and crocus for example, the smaller bulbs need to be planted in a different layer on top of the larger bulbs. This does not apply in our case as all bulbs are roughly the same size.
Recent studies have shown that it makes no difference whether a bulb is placed facing the right way up because the shoots will always find their way to the light. This is great news when we plant thousands of crocuses in a meadow but does not matter so much in pots where there are only a small number of bulbs. Out of sheer principle, we place them 'the right way'. For impact, the bulbs are planted quite densely and then they are covered with a layer of compost which is gently pressed down.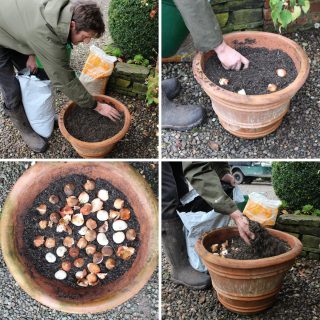 A generous helping of hot chili powder is scattered on top of the compost and the bright orange colour is elegantly disguised with a layer of horticultural grit which also helps keeping the moisture in the soil.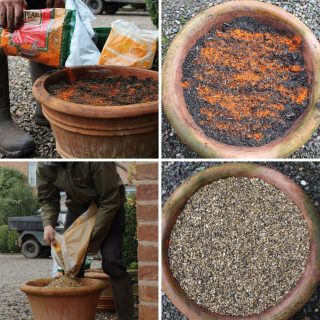 Having placed the pots in their final position, we keep a close eye on them throughout the winter, poised to scatter chili on the surface in case there are signs of attack.
And, fingers crossed, we will be rewarded with a stunning show in the spring!