Preparing for our first Tulip Festival
We are very excited about our first Tulip Festival which will take place on the first May bank holiday weekend in 2019.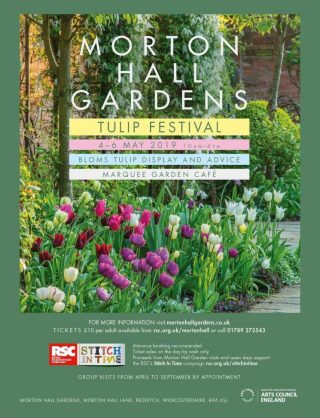 This will be a rather unique event as we are teaming up with Bloms Bulbs and the RSC in hosting the festival: More than 25 different varieties of tulips, all supplied by Bloms, will be on display in borders and pots. Additional varieties will be shown as cut flowers in our Orangery with Bloms staff at hand to advise. 
There will be a weather-proof Garden Café in a large marquee, with a display of a selection of original RSC costumes.
Preparations for the festival are well underway: Bloms have sourced tulips of excellent quality, which has been no mean feat this year as bulb crops have been severely affected by the dry summer. The RSC have already made tickets available for purchase online providing visitors with the opportunity to secure their ticket early on. Marquee and catering have been arranged – which left us with the minor task of planting 4,000 tulips…
We take it as a good omen that we had chosen 14 November for the project, when the weather conditions were perfect, unlike the following week, when tulips all over the country were planted while it was snowing and freezing cold!
A team of seven was mustered to ensure that all tulips could be set out and planted in one day, leaving no chance for unwanted squirrel interference.
During the prior week, beds had been prepared for planting, including removing spent annuals, weeds and leaves as well as cutting back herbaceous plants and half-masting roses and ceanothus shrubs. Box balls had been clipped to remove wispy growth and, finally, the beds forked over to loosen the soil.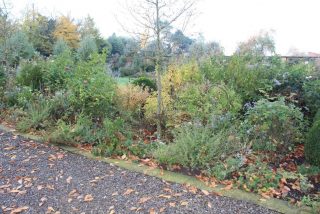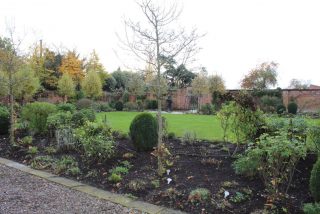 As previously described, our tulips are planted according to a 'map' which defines the position of each bulb, creating a lace-like pattern in between the permanent planting.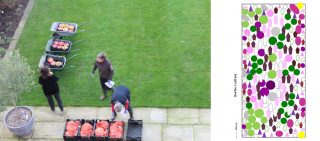 Placing bulbs in this fashion is a very time-consuming job which requires a lot of attention and a fair bit of improvisation as the permanent plants increase in size or disappear. In fact, it takes much longer than the actual planting!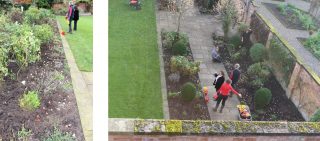 After seven hours, all tulips had been tucked in and all that remained to be done was to squirrel-proof them with a healthy dose of chilli powder.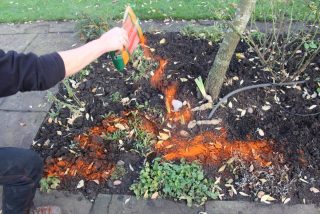 Once all leaves have fallen, we will finish the beds by applying a mulch of composted bark and thereafter watch them with bated breath until mid-April when the first healthy and strong flower buds will hopefully appear.
We hope to see you at the Tulip Festival!