Taming Bamboo
Bamboos are essential ingredients of Japanese Gardens, their transparent screens adding depth to planting. Seen through the papery windows of our teahouse in the morning or evening light, bamboo branches appear like delicate drawings.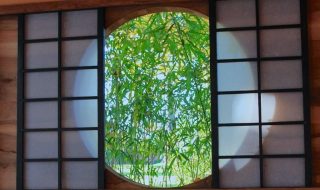 Unfortunately, many bamboo varieties are very vigorous which means that regular thinning is required to preserve the elegant transparency. Also, bamboos tend to produce invasive runners, thus disturbing the careful orchestration of the planting which is so important for the tranquillity of the scene.
To keep them in check, our bamboos are regularly thinned out. The best time to do this is when the plants have stopped producing new shoots. We find that the late summer or early autumn is a good time to undertake the laborious task.