Evergreen Pruning
In a breach of garden orthodoxy, we prune large evergreens, mainly laurel, ilex and elaeagnus, in January. Traditionally, midwinter is reserved for woodland work and the preparation of firewood. However, warmer and wetter winters in recent years have made it inadvisable or impossible to access our woodlands. We thus make time in September for these tasks. Since large shrubs and hedges are pruned from hard surfaces, this can be done in most weather.
The only way to prune our massive laurel hedges is with a cherry picker. Thankfully, Harry is a seasoned rock climber and therefore not fazed by having to wield his hedge cutter at a precarious height.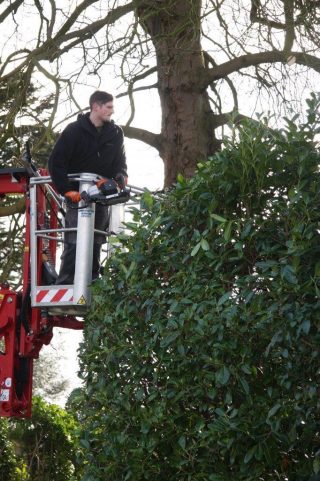 Stand-alone evergreens are shaped safely from the ground, using secateurs and loppers.