Winter Protection of tender perennials
In the Kitchen Garden, we use several kinds of tender perennials which need protection from winter frosts. Tender salvias and chocolate cosmos are lifted when the borders are cut down in November and potted up in the greenhouse where they stay over the winter. 
Dahlias and white agapanthus, which tend to be less hardy than the blue varieties, are left in situ after the foliage has been cut back, and covered with bamboo cloches, stuffed with wood wool. We find that this material insulates the plants just as well as fleece, but does not degrade over the winter. In the case of the dahlias, the winter cloches are replaced by fleece-lined cloches in March which still provide frost protection while allowing light in. The dahlia cloches are removed after the last frosts in May.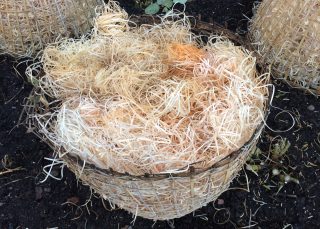 We find that the cloche method is much more reliable than lifting the dahlia tubers and results in much stronger plants because they have been spared the stress of uprooting. 
The cloches from the agapanthus are simply removed in April when the plants start sprouting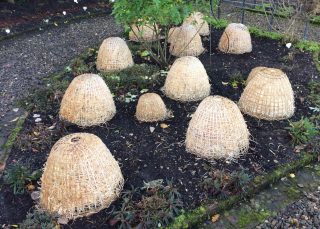 It is very satisfying that, since we started using the cloche method, we have not lost a single plant!