Preparation of leaf compost for soil conditioning
In the autumn, we collect enough leaves from our garden and park to bury a two bedroom cottage. Since we seek to keep as much biomass in the garden as possible, we have developed a method to produce leaf compost within 10 months.
The leaves are blown into large piles on the lawns and collected with a "terra vac" which has originally been designed to collect horse droppings from paddocks. This extremely versatile machine collects the leaves and at the same time shreds them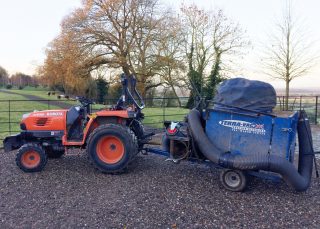 The shredded leaves are collected in a huge bay and turned over once or twice per month using a front loader tractor. The temperature in this gigantic compost heap easily exceeds 60 degrees Celsius, which greatly accelerates the composting process. The same method is used for hedge clippings. There is no need for additional shredding.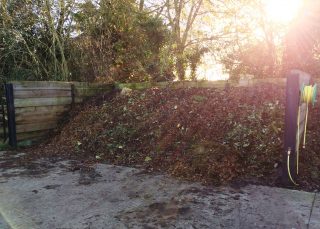 When the last leaves have been removed from all borders at the end of the year, the previous year's leaf compost is spread in a 5 cm thick layer on all beds based on a rota system.
In recent years, it has very relatively mild up until Christmas. We find that this is the best time to apply the mulch because the soil has not cooled down too much and we therefore are not "locking" the cold in the ground. A further benefit of the autumn mulching is that we avoid trampling on the long awaited early spring bulbs!