Living Sculptures
Combining organic and angular shapes is a powerful means to enhance the drama of a garden scene. Winter is a great time to appreciate this effect as shapes become sharply defined through a coating of frost or snow.
A perfect example is found on the East Terrace, where the austere 18th century façade of the manor house with its formal rectangular terrace is softened by groups of topiarised box balls and taller evergreens. Through different heights and slightly different shapes as well as a playful arrangement, the evergreens become living sculptures which soften the hard lines and add interest.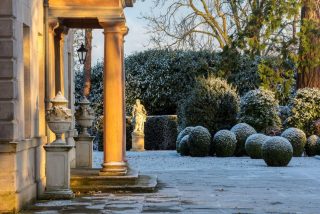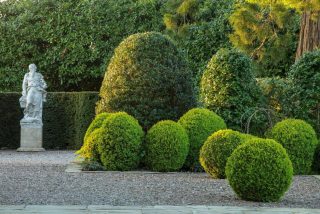 A similar effect has been achieved by placing groups of box balls on either side of our wisteria arbour which is set at a right angle to a gravelled garden path. Here, too the drama of the scene is heightened by the contrast of organic and angular shapes.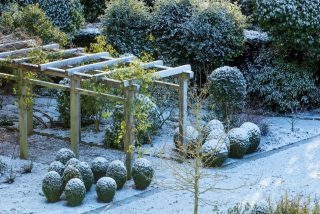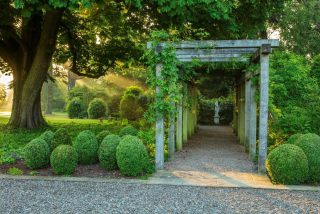 Living sculptures can also be used to create a boundary between different parts of the garden which is much softer than a solid hedge: Between our New Garden and Parkland Meadow, a meandering line of individual viburnum tinus shrubs, clipped into cones, marks the transition between the two areas. The boundary is clearly defined, but also transparent, creating interesting vistas.